Resources For:
College and Professional Students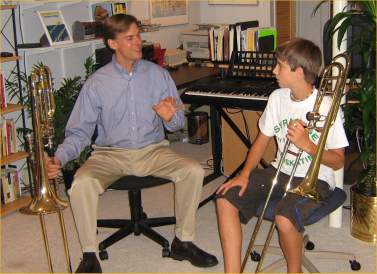 About My Teaching
Here are some links to pages on this site that will help you get a good sense of what my teaching is like. Please feel free to contact me if you have any questions or would like to book an individual or regular weekly lessons.
Instruments Taught
Trombone, Bass Trombone, Tuba, Euphonium (Baritone), Beginning and Intermediate Trumpet
Biography
From playing Mahler symphonies on stage at Carnegie hall, to playing backup for Aretha Franklin, to performing on sackbut from a facsimile of Petrucci's 1501 Odhecaton, trombonist Brian Kay has had an exciting and varied musical career. Originally from Urbana, Illinois, he holds degrees from New England Conservatory, and the University of Illinois. He has toured the country and Europe with The King's Brass and the American Waterways Wind Orchestra, and has performed with many of the areas top ensembles including the Handel and Haydn Society, Boston Philharmonic, Rhode Island Philharmonic, Indian Hill Symphony, Boston Academy, and many of the area's choral groups. He can be heard on compact disc recordings with the Handel and Haydn Society, King's Brass, and the Dave Rasmussen Jazz Orchestra.
Mr. Kay has been teaching in the Boston area since 1991. He currently teaches at the New England Conservatory Preparatory Division and his home studio in Natick, Massachusetts. He is the author of two volumes of Intermediate Trombone Methods, as well as numerous other teaching materials. He has taught sessions on various topics including Historical Performance and the Art of Teaching at area conservatories including New England Conservatory, Boston Conservatory, and the Longy School, where he taught a year-long graduate class on private lesson teaching. He has coached brass ensembles at the New England Conservatory Preparatory Division, and the Longy School Professional Studies Division. Comfortable teaching a wide variety of ages, backgrounds and ability levels, he traveled to Haiti during the summers of 1999 and 2001 where he taught trombone, trumpet, and recorder to young adults and youths, and helped to set up a school music program.
Brian Kay's students have regularly taken part in groups such as New England Conservatory's Youth Philharmonic and Youth Symphony, Greater Boston Youth Symphony Orchestras, Junior and Senior Massachusetts Youth Wind Ensemble, Junior and Senior District Orchestras, Bands, and Jazz Bands, and All-State. His students' performances have included Carnegie Hall performances, and a student guest performance with the Boston Symphony. His highest hope for his students is that they enjoy their musical endeavors and continue to grow through them.

Other
See above for a list of other pages that will also help give a sense of my teaching.
If you have other questions about my teaching, please feel free to email me.